Father's name: Hassan
Date of birth: April 23, 1965
Place of birth: Ferdows
Date of martyrdom: January 11, 1987
Place of martyrdom: Khorramshahr
Burial place: Ferdows
Sending unit: Karbala 5 mobilization
A film about the body of Martyr Javad Amin Mahboob

Will of Martyr Javad Amin Mahboob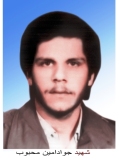 Hawa… Ahad… As-Samad was not begotten, was not begotten, and he had no equal.
Praise be to God Almighty who guided us and gave us the success of our service, albeit a small one. Everything is from him and we have nothing from ourselves and we have never been able to thank him for his blessings. It does not matter to me where I walk in order to please him. When I understood what his pleasure was, I understood and tried to do it, which I hope he will have mercy on again, because it is difficult to call him, and it is more difficult to disgrace him there, because he has also been kind to us and what blessings he has bestowed upon us. And the greatest blessing, which is the Islamic Republic and its leadership right now, what should we do if we do not entrust the soul to him in the way of a friend. But what has happened to us before the Republic and now what, if we have a fair comparison, to defend such a government whose goal is the goal of the prophets is to go to jihad and sacrifice nothing. We have not consciously set foot on a path that ends less than Testimony is not expected. And from the day I set foot on this path, I knew it well, and now that this is a life, if I am killed hundreds of times and come back to life, I will go to the field again for his pleasure, so that those who think they can entangle humans with their weapons Let them know that Islam is a school whose followers' lives are jihad in the way of their firm beliefs.
I ask my dear parents to forgive me and I hope that they will not be impatient with the pain of my absence, because being killed in the way of God is a lesson that the pure Imams, peace be upon them, have learned, and patience and perseverance is their other lesson. I was martyred, the result of your efforts was my dear parents. I hope that tomorrow, in the presence of God Almighty and His prophets and saints, you will be white. I would like to ask my brothers and sisters who have been with me during my life to forgive me and always take steps to please him. Forgive me, see any wrongdoing, forgive their greatness, and pray for us. May the gods forgive us.
---
---
Image