Father's name: Barat
Date of birth: November 6, 1964
Place of Birth: Boroun
Date of martyrdom: February 15, 1986
Place of martyrdom: Faw
Landfill:  Boroun
Sending unit: Basij
---
Biography of the student-teacher of Martyr Habib Kamel Borun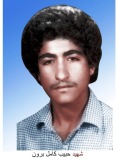 Martyr Habib Kamel Borun was born in 1343 in the village of Borun in a middle class family. He was deprived of his mother's blessings at the age of five and lost his mother. It was as if the hardships and problems of life had been with him from the beginning. Habib was known from his childhood in the family among his brothers and people for his patience and endurance in the face of difficulties and sufferings, and he showed very little discomfort.
He started elementary school in the village of Brun and finished there and entered middle school to continue his studies.
And because there was no middle school in the village at that time, he went to Ferdows city and studied away from his family with other brothers. Habib, despite all the problems he had, studied very well and was always one of those people who He was upset and spent his time in vain. He was known among his friends and acquaintances for his literature, knowledge and sobriety. In the summers, he helped his father with farming and housework, and he was very serious and diligent in this field, and he was very productive and worked tirelessly.
Habib believed in religious issues from an early age and was very serious about prayer and fasting, and most of the time he went to the mosque for prayer. While studying in Ferdows, he went to the mosque for congregational prayers on cold nights and days.
He participated in the marches during the revolution and always waited for the march to take place.
He studied and finished high school at Taleghani High School in this city. In 1984, he received a diploma in experimental sciences.
At the same time as his high school education, which coincided with the imposed war, he was very interested in Imam Rahmat (as) and the Front, and according to a friend who wrote his name to participate in the Front, he sheds tears of joy when he talks to him. And he says, "I wish I could have participated as well."
Participated in the entrance exam for teacher training in 1364-63 and was accepted and studied as a teacher training student in Torbat Heydariyeh and from there was transferred to Ferdows teacher training. He had chosen a field that he had always loved and loved. That is, the issue of science and knowledge, but Habib's high spirit did not allow him to work only in the stronghold of science and knowledge, and he followed the great Imam who said: Science and knowledge should be in the direction of preserving Islam. And he preferred knowledge and went to the front with the caravan of Karbala 2, and in his letters from the front, he always demanded the health of the Imam and the victory of the warriors, and he wanted us to pray. After 45 days of training, he took part in Operation Valfajr 8 and disappeared on the battlefield.
---
The text of the will of the student of Martyr Habib Kamel, in the
name of the
Lord of the Martyrs and the Righteous
, The guardian of the sanctity of the blood of the martyrs, the martyrs who liberated their homeland step by step by shedding their blood and watered the big saplings of the Islamic Revolution. Yes, the call of Nasser Yensrani, Hussein Zaman, Imam Khomeini, is loud, and this call has reached the ears of the whole world, and the caravans are moving towards the battlefields one after another. I have to move with the caravan. I moved and came to stifle the voice of the Yazidi cart in my throat and not let this sinister voice be heard. I came to rejoice the hearts of the mothers, sisters, fathers and wives of the martyrs, the missing and the wounded, and the hearts of all free people with the conquest of Karbala. I better say I came to keep God happy.
God, you know that I have a bag full of guilt on my shoulders, and every time it comes, it gets heavier and heavier to come to the front. After you, I want you to return my martyrdom, even though I know that my privilege for this divine grace is small. And if I get the grace of martyrdom, those who do not follow the red line of Imam Khomeini and do not believe in his guardianship will look at me and not attend my funeral. But may our temperature transform their martyrs and bring them closer to divine mercy.
Although the honorable and Muslim nation of Iran has gone too far for me to send them a message, I have to remind a few points, and my first word is that, O Muslim nation and hero, never leave Zahra's son, the great leader of the revolution, alone, until Today, you have not left alone and you have thwarted any conspiracy of the enemy for being on the scene and you have damaged his reputation.
Another is the preservation of unity, which may divide the enemy among you and separate you from the committed clergy, if they do so, it is the day of misery for the Muslims and the celebration of the superpowers, and the third is the preservation of the school and Islam and the preservation of the Qur'an.
And a word with dear students;
Dear students and brothers, you who are the teachers of the not-so-distant future of the non-revolutionaries, be aware that the basis of any country is its culture, and according to our dear Imam, it is these teachers who can preserve the country's independence. You, who have cut yourself off from all the luxuries of the world and turned to the sacred job of a teacher, are rightly in love with God, and do not let a young man die in a bed of humiliation when Hussein (AS) was martyred on the battlefield, and do not die in negligence when Ali is in the altar of worship. He was martyred and you should not die in indifference when Ali Akbar Hussein was martyred in the way of Hussein and with the aim. And mothers, do not prevent your children from going to the front, because tomorrow, in the presence of God, you will not be able to answer Zainab, who endured 72 martyrs.
And as for my parents (aunt), never worry and even thank God that you sacrificed your child for the sake of God, and for your efforts, especially my noble father, who also played the role of mother to me and raised me from a young age, and in this They suffered a lot, thank you very much. Insha'Allah, may God reward you. Thank you very much, my sympathetic aunt, for enduring my hardships and for forgiving me as a child for what you saw as bad. And you, my brothers, if you have seen anything bad in me during this period of your life, you should forgive your greatness, and I hope that you will be able to fulfill the responsibility that is assigned to you, and each of you will serve the Islamic community as much as you can. Finally, I would like to mention that I owe about a month of fasting and a month of prayer. I hope that my older brother Ahmed and my father will perform them. Finally, I ask all my friends, relatives and those with whom I have been in a relationship to make me lawful.
God, God, keep Mahdi Khomeini, the
historian until the revolution