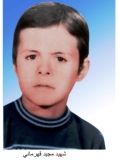 Father's name: Habibollah
Date of birth: February 4, 1966
Place of birth: Ferdows
Date of martyrdom: December 17, 1982
Place of martyrdom: Soumar
Burial place: Ferdows
Sending unit: Basij
---
The text of the will of Martyr Majid Ghahremani
God Almighty bought the souls of the
believers and their property from the Paradise of God, killing them for the sake of God, killing them and killing them… God and the property of the believers at the price of Paradise.
Now that, with God's help, I am going to the battlefields of right against wrong, I am writing a few sentences as a testament that, God willing, if I am martyred in this way, my soul will not be hurt.
I ask my parents, brothers and sisters not to cry for me, because I have chosen this path with full awareness and precise vision, and in this case, if I am killed or I kill the enemy, we will win in both cases, because jihad failed in the way of God. does not have . My second commandment is to let my dismembered body be seen by all my enthusiasts, perhaps this is an example for the few who are still asleep. I ask you, the people of Hezbollah, to support Velayat-e-Faqih and the committed clergy, because the greatest burden of this revolution is borne by the clergy, and I ask all of you to come and fill your mosques and glorify the prayers of your congregations, and do not leave Islam and your Prophet alone. I ask you to take part in the fronts, and if for some reason you can not go to the front, at least send your children, and if this is not possible, fight behind the front against the internal revolution and these gangs that commit crimes every day, so if you can go to the front. Go to the east and the west and understand that it is not possible to fall with the Islamic Republic and on the other hand, the weapons that fell on the ground of our brothers will not be left on the ground. I also want them to recite the Faraj prayer of Imam al-Zaman when I am buried.
Peace be upon you and God's mercy and blessings be upon
Majid Ghahremani