Father's name: Karamali
Date of birth: January 30, 1970
Place of birth : Borun
Date of martyrdom: January 26, 1987
Place of martyrdom: Shalamcheh
Burial place : Borun
Sending unit: Karbala 5 mobilization
---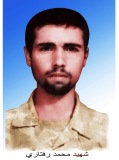 A corner of the biography of Martyr Mohammad Raftari
This martyr was born in 1348 in the village of Barun in a religious and provincial family. He was the third child in the family. He was a calm and submissive son and had a special respect for his parents. Do not forget the first prayer of their time and fast and respect the elders. He was interested in the front and the war and said that this war imposed by the United States should end in favor of Iran. He went to the front at the age of 16. He was not married and was interested in engineering. He put it into action and achieved his dream.
He spent his middle school years in Ferdows and helped his parents when he was unemployed or went to the desert with the sheep. He was engaged in construction work during the summer holidays.
He was very good academically, so that all the teachers were satisfied with his academic performance. He was also active in political activities and in the mobilization bases of schools and villages, and went to the front to defend the Islamic Republic of Iran. He had a good relationship with Martyr Mehdi and Mohammad Akbar Raftari. He was a companion and comrade of Martyr Mohammad Akbar Raftari (his cousin) and acted as a destroyer.
This martyr was first trained for three months in Torbat-e Heydarieh and for another six months in the Hamidiyeh of Ahvaz (because the martyr and his cousin, Martyr Mohammad Akbar Raftari, were part of the destruction group.)
When the war started, due to his young age, he always counted the moments for the war and the front and went to the Basij base several times to be sent to the front, but because he was short and had a small body, they did not agree to send him to the front. To be able to persuade the relevant authorities to agree to send him, he put his sack and equipment under his feet to get taller.
Because their older brother was in the Basij, the martyr was promised another two months, but he did not wait until the end of two months, and in any case, he was sent to the front with his cousin, the martyr Mohammad Akbar. The group was destroyed and finally participated in Karbala 4 in January 1965 and was martyred. His pure body remained in the damp deserts of Shalamcheh and in that strange land for several years and disappeared. He returned to his hometown. Peace be upon him.