Father's name: Gholamreza
Date of birth:  July 1, 1963
Place of birth: Baghestan
Date of martyrdom: September 8, 1983
Place of martyrdom: Saqqez
Burial place:  Baghestan Olya
Sending unit: police force
---
biography, diary :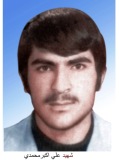 My father-in-law, Shahid Ali Akbar Mohammadi, son of Gholam Rezabeh, ID number 11, on 10/4/1342 in Upper Baghistan, was born into a religious and friendly family of the Ahl al-Bayt (AS). Islam was established, it did not grow.
Raising in such an environment made him a worthy and immortal witness, a man who was humble, contented and, most importantly, God-fearing, and thanked his parents in the will for this high and worthy upbringing that led him to follow the path of truth.
Shahid Mohammadi successfully completed his primary education at Rahmat Abad Baghistan High School and then continued his secondary education at Alavi School in Baghistan.
During the summer holidays, the martyr went to a school in Islam to learn the word of God, and his pure heart was enlightened from the very beginning of Banurfaran. Martyr continued his high school education in the field of economics at Dr. Shariati High School and succeeded in obtaining a diploma.
One of the outstanding features of the martyr in this period is the sobriety and shame of his revelation, which was evident in his face and behavior.
The other was that he missed opportunities and was disgusted with unemployment, and immediately after school closed, he helped his father with farming or housework.With the rise of the glorious Islamic Revolution in the south, his indescribable passion, day and night, to achieve the goals of the Islamic Revolution under the leadership of Imam Khomeini (ra) made a continuous and double effort and regularly participated in marches and demonstrations against the imperial regime held in Ferdows. After the victory of the Revolution, he cooperated in the Baghistan Basij Resistance Base as one of the members. After receiving his diploma, the martyr enrolled in a police academy with some of his friends. An example of this poem was written in a small notebook of his memoirs and at the beginning of his will:
Because you have to go through the foot of human love
You should pass the test of love easily Get ready to travel, be the target of danger
You have to go through this furnace, our lady
He passed away and his basketball and ease passed through the path of love and his heart shone and shone like a star. And Iraq) As a result of being shot in the abdomen on 6/17/1361, while the prayer of Faraj Agha Imam Zaman (AS) and the funeral of the Supreme Leader was over, Ali Akbarvarjan surrendered to Jan Afarin. Named after himself (Behesht Mohammadi), he was buried.
Bradrjan of Ali Akbrmtr made of
You have become bloody and full on the way to school Brandi Mehdi Sahib Zaman (as) Labik said
Rhbrby Yarvyavrratvyavr made of You were a bud, you became a flower, and then you became full
Khvdbrykhty amount of blood, tulips Prevert made of Because Zephrodus went to Ferdows in the desert
Of Khakian Dygrfratr made of In the case of the Almighty, you eat sustenance
You have become a companion of lovers and a prophet (PBUH)
(Salawat for the joy of his lofty soul)
---
The text of the will of Martyr Ali Akbar Mohammadi
Vela Thsbn Alzyn Qtlva the sake of their Lord … Amvta Bell resuscitation bed Yrzqvn
do not think those who are killed in Allah's way as dead, but alive and are provided with their Lord.
Because love comes in between, you have to pass the test of love, you have to pass easily,
prepare for the sea of ​​travel, be the target of danger, you have to pass through this furnace with the light of faith
Many greetings and peace be upon the great leader of the revolution who saved us from the clutches of the tyrants and oppressors who led us to misery and misery, and peace be upon you, dear parents, for educating me in such a way that I have followed the path of truth. And my warm greetings to my sister who will continue my path with her language. Greetings to you, my brother Ibrahim, who I hope will continue on my path if I become a martyr, and do not let even a mosquito bite me to Islam. To my dear Bibi, who with her prayers leads the warriors to existence and victory. Greetings to my aunts and uncles and all the tribes that I hope will strive for Islam.
Maderjan, if I became a martyr, I would not be willing to shed even a drop of tears in my departure, because my soul will be in torment. We should be proud and proud that I sacrificed my blood for the sake of the truth and for the sake of Imam Hussein (AS).
Father, I hope that with your agricultural work you will punch the mouth of American imperialism and other hypocrites.
May his memory be cherished and his path be fruitful.
Ali Akbar Mohammadi