Father's name: Abbas Ali
Date of birth: June 9, 1958
Place of birth: Afghoo
Date of martyrdom: July 14, 1982
Place of martyrdom: Shalamcheh
Burial place:  Afghoo
Sending unit: Jihad
---
biography, diary: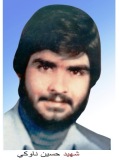 Martyr Hossein Navaki was born in 1337 in the village of Afgoo in the city of Ferdows in a religious family of the Twelver religion. After his childhood, he spent the fourth grade in the same village where he was born. Doing for-profit work and family living allowance went to Tehran. He worked as a baker in Tehran for several years. In 1959, he returned to the city and married his beloved wife. It was not long after his marriage that he went to the right-against-wrong fronts. His friends had told him, "Hossein Jan, you are still the first in your marriage. I will go to the front and fight the honeymoon with the Baathist enemies and defend the revolution and my homeland.
After arriving in the area, he was stationed on the front line and took over driving a bulldozer. The mission returned to the city, but the war support officials, who acted well and saw his relentless efforts in the area, issued an order to employ him in jihad-building, and Hussein became a jihad employee from that date and cooperated sincerely with the jihad. At the time of his martyrdom, he had gone to the front in four stages and had taken part in various operations.
---
a diary:
Memoirs of a martyr's mother
Hussein's date of birth is that before Hussein was born, there were no children left for us and they died. When Hussein was born, his father told him to name him after Imam Hussein (AS). He had a dream. He had said that you should sacrifice a sheep every year, but we were unaware that our good son Hussein was sacrificed in the way of God after 24 years and his father's dream was interpreted.
As a child, Hussein was a quiet and silent child. His annoyance did not even reach an ant. When he grew up, everyone was satisfied with him. Prayer and fasting He has been praying and fasting since he was 10 years old. He was married and righteous. He was very interested in the pure Imams. They went to the mosque together and participated in congregational prayers. He loved Imam Khomeini so much that he loved him more than he did about his wife's front and war. I can not go to the front and ignore the order of the Imam. I go through everything, but I will never disobey the order of the Imam.
Martyr Nawki was the first martyr of the village and it was destined that Hussein would be martyred. He had a child who hugged and kissed him for the last time he wanted to go to the front, and he looked at his face as if it was his last meeting with his child, with tears streaming down his face.
Memoirs of a fellow martyr
On the night of the operation, he draws a lottery with one of his friends in such a way that the lottery will be martyred in the name of whoever enters it. Hussein rushes to the aid of his friend's machine to help his roommate, who is killed by an enemy RPG bullet and is martyred.
Memoirs of Navidi Brother, my fellow martyr
Martyr Navaki was my cousin and classmate until he did not study more in the sixth grade. The reason was his father's financial problems. We also worked together in Tehran. The revolution took part in the marches. After the victory of the revolution and the beginning of the imposed war, the air of the front and the war had hit him. But Hussein had made his decision and he spoke firmly. He had already gone through several stages, but this last stage, when everyone seemed to know that he would be martyred, was dissatisfied with his departure. The Ramadan operation in the southern region was about to take place. Was preparing for the operation. Hussein went to the front and was martyred during the 24 months of Ramadan.
Memoirs of Martyr Mohammadian's brother
Martyr Nawaki was a self-reliant person and God. He was a hard worker and had low expectations and was a pioneer in good deeds. He was a good-natured person and he never upset anyone with his language. His words and deeds were the same. I remember that Hussein had hit a minefield with a bulldozer to open the way, he was so badly injured that he was taken to the back of the line. Martyr Nawki loved martyrdom. He was very brave and fearless. Working with a bulldozer worked on open and flat ground that was well visible to the enemy and there was no fear. He was very interested in Imam Khomeini and considered the command of Imam and Velayat-e-Faqih to be the command of God.
Memoirs of Martyr Hussein Navki's brother
I am the younger brother of a martyr. Martyr Nawki was a hard-working young man. After studying, he worked for a while in the livestock business in the village and then in the bakery and bakery business. , Was too much and on the other hand he hated people who considered themselves superior to others, especially the painless rich. My brother Hussein Agha was very kind to his parents and had a special respect for them and tried to Leisure to work with father He also treated his wife well and helped her in household chores and consulted with her husband to do things and considered him a partner and he was very interested in her child who was still young and what The most important thing was the religious affairs, which were very limited to performing prayers on time, prayers, secrets and the need for God.Operations had taken part in Operation Bostan, Chezabeh Strait, Khorramshahr Liberation Competition, and the last Ramadan operation, which resulted in his martyrdom. And a very good funeral was performed for him.
Guardianship and obedience to the Imam
He was very committed to the Imam and the clergy. He carried out the Imam's orders face to face. If you are dissatisfied with me and you are upset with me going to the front, let us leave and ask for you, but I will not give up the jihad and the words of the Imam, and we have many other contents and memories of the martyr that cannot be contained in these pages. A book will be presented to the future.
May his soul be happy and comfortable