Father's name: Mohammad Ali
Date of birth: January 5, 1970
Place of birth: Ferdows
Date of martyrdom: January 14, 1987
Place of martyrdom: Shalamcheh
Burial place: Ferdows
Sending unit: Karbala 5 mobilization
---
biography, diary
Martyr Valiollah Etefaqi was born on 10/15/1348 in Ferdows city and was martyred on 10/24/1365 in Shalamcheh area due to being hit by shrapnel.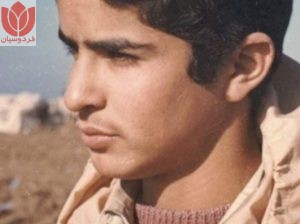 On 10/15/1348, equal to the morning of the 27th month of Ramadan, in a religious family from Ferdows city, two brothers named Valiullah and Zabihollah were born. He spent six months under the care and supervision of a doctor, but Waliullah continued to live, but his brother Zabihullah said goodbye. This was while his family had completely given up on both children. But God's destiny was such that the guardian of God survived and in the great test, he rose to the top of the spiritual peaks. He entered primary school in 1976 and successfully completed his primary education and entered a higher level. Martyr Valiollah Etfaqi, during his studies, was a man of humor and kindness and always liked to make children laugh and put a smile on their lips. From the age of twelve, his prayers and fasts were not abandoned under the encouragement of his family. There was less work to be assigned to him and he refused to do it. In 1983 and during the imposed war against the holy order of the Islamic Republic of Iran, he went to war zones with an army that had been organized to visit war zones and returned to the city after seeing areas such as Bostan, Hoveyzeh and others. The following year, by enrolling in the Basij, he underwent military training in Torbat-e Jam, and in 1986, he was sent to the front for the first time as a Basij fighter. At this time, he was in his second year of high school. After spending three months in Ahvaz, Abadan, Andimeshk, etc., he returned to his hometown and successfully completed his second year of high school exams. But it was not long before he went to war zones for the second time in November of that year and returned to Ferdows after 45 days. The end had changed this time. He thought and talked less and was alone with himself.
A film about the holy body of a martyrhttps://www.aparat.com/video/video/embed/videohash/9XQyI/vt/frame
The text of the will of the student of Shahid Waliullah
Etfaqi in the name of A. Rahman Al-Rahim
Greetings to Sayyid Rasul and the Imams, especially Imam al-Zaman (as). For God's sake, forgive my crime. Yes, dear family and friends, and finally the grace and mercy of God Almighty included the condition of this ungrateful and worthless servant, and instead of a black death in bed, a red death in the way of my goal, because if instead of crying, I am still, It will be better to think about the end of your work, but if you want to express your love to me, you can take my fallen weapon off the ground and pursue my goal, which is the promotion of Islam and the revival of human values.
Peace be upon you and may God have mercy on you and bless you,
but God is accidental