Brother of martyr Seyed Reza Mirjalili
Father's name: Seyed Zabihollah
Date of birth: August 24, 1967
Place of birth: Ferdows
Date of martyrdom: May 29, 1982
Place of martyrdom: Shalamcheh
Burial place: Ferdows
Deployment unit: mobilization of Ramadan operations
---
biography, diary
Martyr Seyyed Abolfazl Mirjalili was born on May 28, 1967 in Ferdows . He was born into a religious family. He went to the front with his brother Seyyed Reza Mirjalili as a teenager. His father's name was Seyyed Zabihullah. The place of his martyrdom is Shalamcheh and the place of martyrdom of his brother is Faw.
He was martyred at the age of 15 and refused the invitation of the truth
---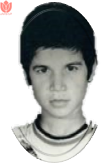 The text of the will of the Revolutionary Guards, Martyr Seyyed Abolfazl Mir Jalili
In the name of the Most
Gracious, the Most Merciful, and do not consider
those who were killed for the sake of the dead, but do not think of those who have fought in the cause of God and been killed in this way as dead. Rather, they are alive and they are provided for by their Lord. The Holy Quran .
Now that I am going to the front of truth against falsehood with great enthusiasm, I will go first for the victory of Islam, and if God Almighty wants to give me the rank of martyr, do not write incompletely on my grave, because I have reached my taste. The elders (Hazrat Ayatollah Khomeini, the deputy of Imam Zaman or Hussein Zaman) said: Listen and do not disobey.
I ask my brothers and sisters to do whatever my mother tells them to do, because God forbid that tears flow from my mother's eyes, because in that world we will all be responsible and we will not be able to raise our heads to our mother.
Peace be upon the
signature of Sayyid Abul-Fazl Mir Jalili