Father's name: Zabihullah
Date of birth: October 26, 1961
Place of birth: Ferdows
Date of martyrdom: April 12, 1983
Place of martyrdom: Sharhani
Burial place: Ferdows
Sending unit: Basij
---
Testament of the great martyr's guardian Habibi
We have kissed the clean soil of the trenches, we have stepped on the path of the leader in the
name of the Lord of the martyrs and the truthful
, those who believe, and those who believe , and strive for the sake of God with their wealth and their souls with God Almighty, and those who are victorious.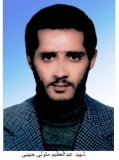 Those who emigrate and jihad in the way of God are among the successful and are always alive.
Greetings to the great leader of the revolution, Imam Khomeini, and the nation of martyrs and martyrs, and with greetings to my dear family, this is my will that I am writing to you. Forgive me if they are upset with me, and never be upset that I was killed in the way of God, but be very happy. I know how you feel because I am not among you, and I hope that your feelings are sincere and for God, because the one who gave me life has now bought my life, and I willingly laid down my life in accordance with sincerity. I return to God and I return to Him.
I call on the Muslim people and Hezbollah to always punch the opponents of Islam, Muslims and the Imam with their presence on the scene.
I call on the youth and other brothers, if they have not yet succeeded in coming to the front of this university in the full sense of humanization, to set up their plan as soon as possible and to separate themselves from this world, which is an unfaithful friend, and move towards God.
To my family: Take some money in my handbag with me and spend it for the sake of God. I owe 37 days of fasting, 30 of which are from last year (60) when I was in the front and 7 of which are from this year (61) when I wanted to come to the front. … Continue.
And peace be
upon him, in the hope of the victory of the truth over the
great falsehood of Habibi's guardian