Father's name: Ali Akbar
Date of birth: March 25, 1968
Place of birth: Sorond
Date of martyrdom: February 10, 1986
Place of martyrdom: Arvand River
Landfill: Sorond
Sending unit: Karbala 5 mobilization
---
The text of the will of Martyr Reza Ghorbani Sorond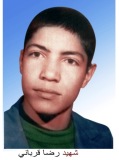 (Name of God)
Peace be upon Mahdi, the Imam and the vice-deserved, and all the martyrs Imam, peace be upon you people to Hezbollah.
Given the sensitivity of the period and the current situation of the revolution, I considered it my duty to come to the front.
And the purpose of coming to the front is to punch the mouth of the United States and its gossipers so hard that I do not leave the trenches of the brothers who joined from one world to another empty to follow them and continue on their path.
My message to my parents is that, if I am martyred, God willing, they will not cry for me, that my enemies will be happy.
And I ask my dear sister and my little brother Habib and my brother Ibrahim, not to cry in my death so that the enemies will be happy, and if they want, to cry on Abdullah Al-Hussein, and I ask my sister to keep the hijab, which is a punch. Preserve the mouths of gossipers and teach others.
And I ask my brothers not to leave the Imams alone and not to let my weapon remain on the ground, just as I did, and I ask you to be kind and respectful according to your name. God's movement, take a step.
And I ask all the sisters, as a little brother, to accept this will and, by observing their hijab, punch the mouths of the gossipers and the hypocrites firmly, and do not be indifferent that if you are indifferent in the sight of God and in the sight of the two. In the world, you will be Fatemeh Zahra (sa).
And now that I am leaving and I am not among you, I hope that you will help the Imam and support this revolution and fight the enemies of Islam to the last drop of your blood.
In the end, I entrust all of you to God and I wish that the moments of my life be reduced and added to the life of the dear Imam.
With wishing
Oh God Bless the Khomeini revolution of Mahdi
God Pyrvzshan Islamic forces
withdraw
The humble servant of God: Reza Ghorbani, signed by Ahvaz / 11/64