Father's name: Haji
Date of birth: October 4, 1957
Place of birth: Baghistan
Date of martyrdom: March 11, 1986
Place of martyrdom: Palang Sour
Burial place: Baghestan Sofla
Deployment unit: Army – Lieutenant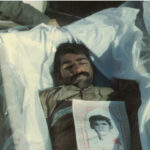 ---
A video of the funeral and burial ceremony of this glorious martyr
---
The text of the will of Martyr Abdul Rahim Ghobadi
God loves those who fight in the cause of Safa, and they are the foundation of Marsus
with greetings and peace to the Prophet of Islam and greetings to the martyrs of Islam and greetings and greetings to the great leader of the revolution and greetings and greetings to you friends of Islam.
Now that it is God's destiny for me to go to the battle of truth against falsehood and continue the path of our dear martyrs and prove that from every drop of pure blood of every martyr that is shed on the ground, thousands of fighters defending the blood of martyrs rise and do not let Let the trenches remain empty for a moment, and we will continue on this path as long as it is God's will, and we will not allow this damn enemy to rest for a moment.
And since we know that life and death are in the hands of God, I thought it necessary to mention a few things about my parents and my wife.
I ask my parents to assume themselves instead of the other parents of the martyrs and to see that they are not the only ones whose child has been martyred, they should be proud of their child's martyrdom. May God grant you enough patience and endurance, and I also ask you to know my wife as their own daughter and be kind to her.
And I ask you, my wife, to work hard like the other wives of the martyrs, like Zeinab, and to be proud that your husband has reached the level of martyrdom, and to try and educate my children, and to educate them as the Islamic society wants, and to deliver them to society. And never allow yourself to be lamented by others.
I am sure that if I join the meeting and be one of the martyrs, we will make our children proud in the future. And if you believe in the day, we must get rid of this unfaithful world, so how much better to give this priceless life in the way of Islam and the country and make the future generations proud.
In the end, I ask the presence of my parents to forgive me and be satisfied with me if they are neglected or insulted by their children, and I also ask my wife, my brother and sisters, and all my friends and family to honor the blood of the martyrs if you treat them badly I am forgiven that I may be white in the presence of the Almighty.
If you receive this will at the same time as my body, bury it in the lower garden, otherwise there is no problem wherever there was a part.
Soldier of Islam, Lt. Abdul Rahim Ghobadi, dated 11/19/64
---
---
Image