Father's name: Abbas Ali
Date of birth: November 15, 1960
Place of birth: Ferdows
Date of martyrdom: April 16, 1983
Place of martyrdom: Fakka
Burial place: Ferdows
Sending unit: Basij
---
Biography: Quoted from Ghodsian blog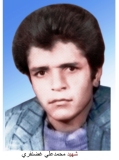 Muhammad had good morals and was always loved by his relatives. His treatment of his parents was spoken by acquaintances and relatives. From his childhood, traces of growth and perfection were seen in his luminous face.
At the height of the glorious Islamic Revolution led by Imam Khomeini, his family participated in various religious marches and ceremonies alongside the Hezbollah ummah. He always expressed his opposition to counter-revolutionaries and traitors. He was bound by congregational prayers and Friday prayers and participated in the prayers of Tawassul and Kamil.
His love and devotion to the clergy and especially to the Imam (ra) and his serious interest in the Islamic Revolution showed his self-sacrifice and self-sacrifice and therefore the victory of the Islamic Revolution created a great change in his life and in response to the call of the Prophet The great leader of the dignity of the presence of the youth on the fronts stopped working and forbade himself to stay at home.
Muhammad Ali always said: "The hypocrites and counter-revolutionaries can not stand this revolution, they want to overthrow it in any way possible, but they are blind, we will not allow our lives, property and honor as long as we are alive. "Let us be raped."
Mohammad Ali served as an ambulance driver on the front lines. Meanwhile, after a while, he hears the news of his late father's illness and returns to Islam to visit him, who unfortunately lost his father and is deprived of his father's blessings.
But due to his love for martyrdom and his stubbornness in the matter of protecting the religion of Islam, not more than 6 months have passed since his father's death, which is the second and in fact the last time with a great and voluntary spirit and against the insistence of relatives who ask him He waits until his father's anniversary to leave for the land of lovers, and in Operation Valfajr 1 and while sending some wounded to the back of the front line due to the mortar of the usurper enemy, his pure spirit joins the supreme kingdom and his fragrant blood reaches another part of Karbala, Iran. It smells.
May his soul rest in peace, and may too many people follow his way
And peace be upon you and God's mercy and blessings